Quick Overview
Serie | 4

wall-mounted cookers hood

90 cm

flat black

DWB098G60I
Specification :
90*cm | Wall mounted chimney
Motor power: 350 W
Very high suction power
3 high efficient baffle filters
Max. noise level: 55 - 73 dB
Touch controls for 3 fan speed +
intensive mode
2 years of comprehensive warranty
Appliance dimensions (HxWxD): 594 x 900 x 490 mm
Serie | 4

Gas hob

75 cm

Hard Glass, Black

PPC7S6F20I
Specification :
75*cm | 3 burners | Black glass gas hob
Brass burners
Triple ring burner with Guided Flame Technology
Flame failure safety device
Cast iron square-shaped pan supports
for wobble-free cooking
Easy to clean stainless steel heat shields
Appliance dimensions (HxWxD): 66 x 770 x 510 mm
Cut out dimensions (HxWxD): 41 x 730-732 x 490-492 mm
TrueMixx Radiance

600 W

Red

MGM4331RIN
Specification :
600 W 2-C series motor
Stone Pounding Technology
100% Copper winding motor
Robust metal insert nylon couplers
Hands-free operation
Concealed bush
Easy cable management
30 minutes motor rating
Overload protector
High quality and long-lasting ABS body
3 speeds + Pulse
Serie | 4

wall-mounted cookers hood

90 cm

flat black

DWB098G60I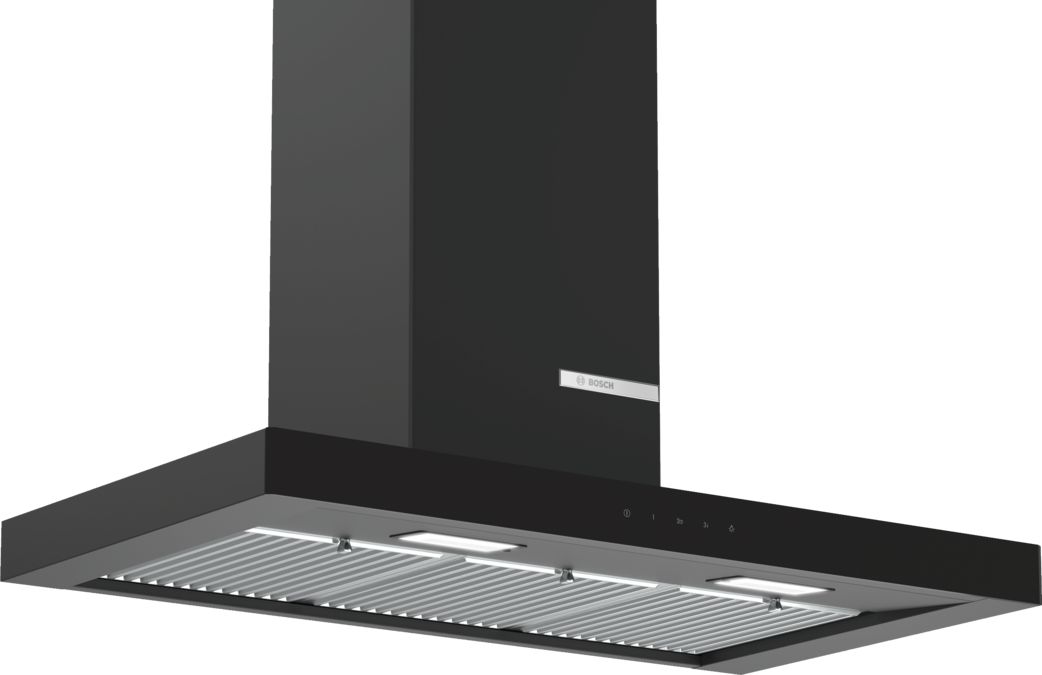 Black, stylish, and sophisticated – this hood exudes robust performance and adds a contemporary and professional vibe to any kitchen.
Highlights :
Design :
Box design for wall mounting
Brushed stainless steel and glass panel
Touch control on the Black full-width glass panel
Chromed logo strip on the chimney
Function :
Maximum blower performance: 745 m3/h (free blowing)
The noise level from to 55 dB to 77 dB
4 fan speed settings (three-plus intense)
Comfort :
2 x 2 W LED lighting
Intensive speed automatically switches back to the previous setting after 10 minutes
Triple-layered, high-grade stainless steel Baffle filters
Technical Specification :
For wall mounting only
Suitable for ducted or recirculating operation only
Dimensions of the product, with chimney (if exists)
(HxWxD mm): 594 x 900 x 490
Length electrical supply cord: 150 cm
Ducting connection: 150mm/120mm diameter
Serie | 4

Gas hob

75 cm

Hard Glass, Black

PPC7S6F20I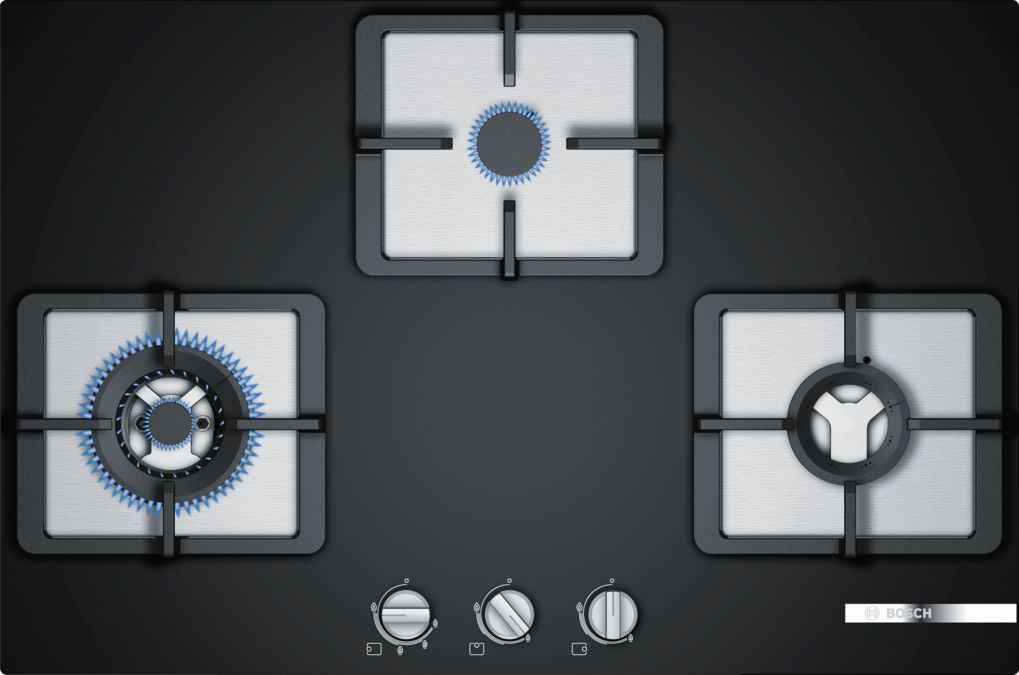 Developed especially for the Indian market, with powerful burners suited for your favorite Indian cuisines.
Highlights :
Design :
Black glass
Sword control knobs
Bosch logo clip

Function :
Brass burner
Preset nozzle: LPG G30 30 mbar
Knob ignition
Flame failure safety device
Carbonized steel pan supports
Technical Specification :
Dimensions of the product (HxWxD mm) : 41 x 770 x 510
Required niche size for installation
(HxWxD mm) : 41 x 730-732 x 490-492
Total connected load gas: 7.5 KW
Power cord length 120 cm
Plug type_old: India plug (6 Ampere)

Sword knobs: for ergonomic control.
Surface color: elegant black tempered-glass design.
Assured Gift :
TrueMixx Radiance 600 W Red MGM4331RIN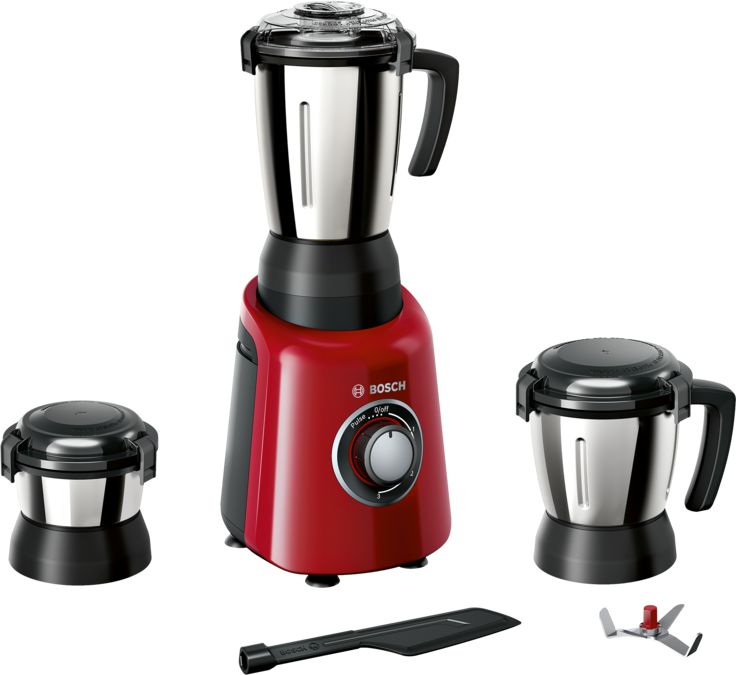 The TrueMixx Bold Mixer Grinder: With its unique Stone Pounding Technology which recreates the traditional pounding effect to deliver the authentic taste of dry grinding recipes.
Stone Pounding Technology: Combination of powerful high torque motor and blunt PoundingBlade for traditional dry grinding.
Stainless steel dry, wet, and chutney blades for superior grinding performance.
Comfort.
Hands-free operation thanks to unique lid locks and strong suction feet.
The ergonomic design of jar handles for easy operations.
Cable management for easy handling and storage.
Material / Design :
The superior quality of stainless steel jars and blades for high performance and durability.
Robust metal re-inforced Nylon 66 couplers, tough Nylon 6 lid-locks, and strong jar sockets made of ABS.
More Information

| | |
| --- | --- |
| Brand | Bosch |
Sold By:
Authorized Company Dealer - Laxmi Stainless Steel Works
One Of The Most Trusted Appliances Store In Pune For Quality And Branded Products
Established: 1976
Address: Appa Balwant Chowk Pune
Phone: +91 20 2445 0728