Quick Overview
Serie | 4

wall-mounted cookers hood

90 cm

Black

DWK098G60I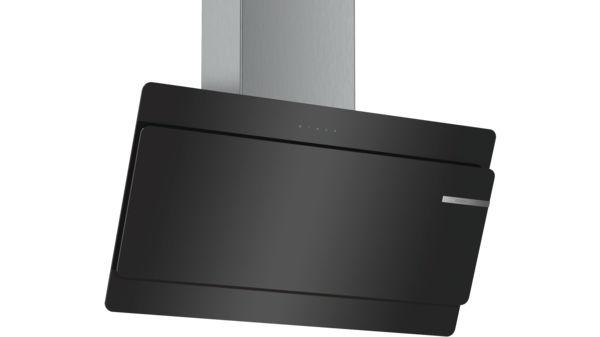 Black, stylish, and sophisticated – this hood exudes robust performance and adds a contemporary and professional vibe to any kitchen.
Design :
Straight glass and stainless steel chimney for wall mounting
black Glass surfaces
Electronic touch control
Chromed logo on the screen
Key Functions :
Maximum extraction rate according to EN 61591: 840 m³/h
Maximum blower performance: 905 m3/h (free blowing)
4 fan speed settings (three-plus intense)
Comfort :
2 x 2 W LED lighting
Multi-layer aluminum grease filters
The noise level from to 55 dB to 77 dB
Technical information
For wall mounting only
Suitable for ducted or recirculating operation only
Dimensions of the product, with chimney (if exists) (HxWxD mm): 500 x 900 x 480
Minimum clearance to gas/electric cooktop: 750 mm
Length electrical supply cord: 150 cm
Serie | 4

Gas hob

90 cm

Hard Glass, Black

PPQ9S6F20I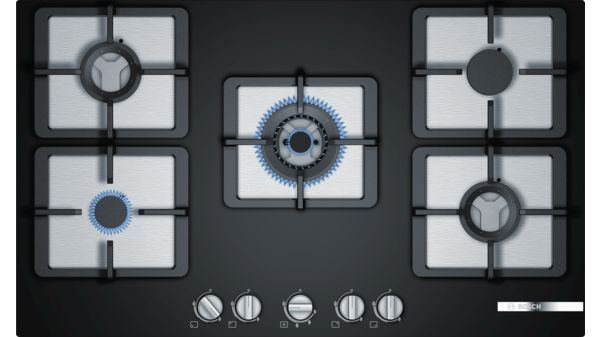 Developed especially for the Indian market, with powerful burners suited for your favorite Indian cuisines.
Design :
Black glass
Sword control knobs
Bosch logo clip
Key Functions :
Brass burner
Preset nozzle: LPG G30 30 mbar
Knob ignition
Flame failure safety device
Cast iron pan supports
Technical Information :
Dimensions of the product (HxWxD mm) : 41 x 860 x 510
Required niche size for installation (HxWxD mm) : 41 x 730-732 x 490-492
Total connected load gas: 11.25 KW
Power cord length of 120 cm
Assured Gift :
TrueMixx Radiance 600 W Red MGM4331RIN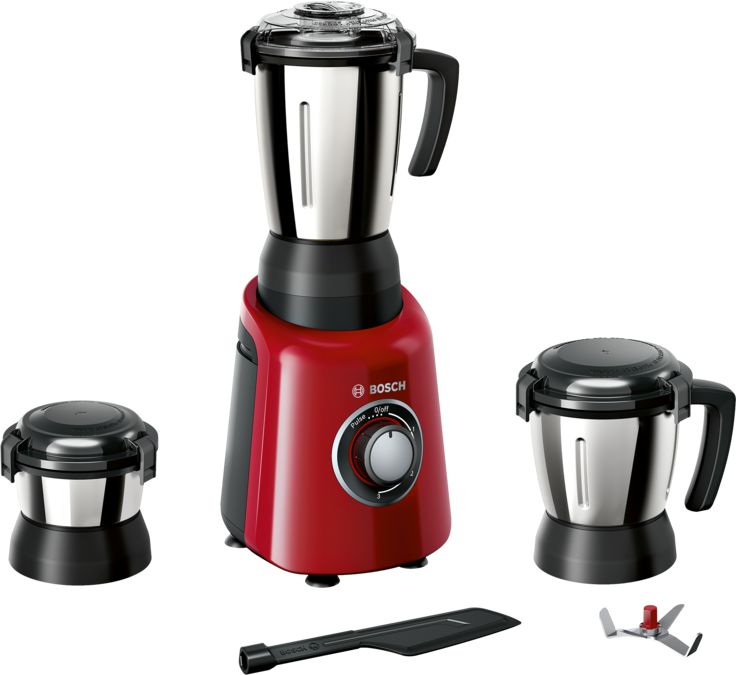 The TrueMixx Bold Mixer Grinder: With its unique Stone Pounding Technology which recreates the traditional pounding effect to deliver the authentic taste of dry grinding recipes.
Stone Pounding Technology: Combination of powerful high torque motor and blunt PoundingBlade for traditional dry grinding.
Stainless steel dry, wet, and chutney blades for superior grinding performance.
Comfort.
Hands-free operation thanks to unique lid locks and strong suction feet.
The ergonomic design of jar handles for easy operations.
Cable management for easy handling and storage.
Material / Design :
The superior quality of stainless steel jars and blades for high performance and durability.
Robust metal re-inforced Nylon 66 couplers, tough Nylon 6 lid-locks, and strong jar sockets made of ABS.
More Information

| | |
| --- | --- |
| Brand | Bosch |
Serie | 4

wall-mounted cookers hood

90 cm

Black

DWK098G60I
90*cm | Wall mounted chimney

Motor power: 350 W

Very high suction power

3 high efficient mesh filters

Max. noise levels: 55 - 73 dB

Touch controls for 3 fan speed + intensive mode

2 years comprehensive warranty

Appliance dimensions (HxWxD): 500 x 900 x 480 mm
Serie | 4

Gas hob

90 cm

Hard Glass, Black

PPQ9S6F20I
90*cm | 5 burners | Black glass gas hob

Brass burners

Triple ring burner with Guided Flame Technology

Flame failure safety device

Cast iron square-shaped pan supports for wobble-free cooking

Easy to clean stainless steel heat shields

Appliance dimensions (HxWxD): 66 x 860 x 510 mm

Cut out dimensions (HxWxD): 41 x 730-732 x 490-492 mm
Assured Gift :
TrueMixx Radiance

600 W

Red

MGM4331RIN
600 W 2-C series motor

Stone Pounding Technology

100% Copper winding motor

Robust metal insert nylon couplers

Hands-free operation

Concealed bush

Easy cable management

30 minutes motor rating

Overload protector

High quality and long-lasting ABS body

3 speeds + Pulse
Sold By:
Authorized Company Dealer - Laxmi Stainless Steel Works
One Of The Most Trusted Appliances Store In Pune For Quality And Branded Products
Established: 1976
Address: Appa Balwant Chowk Pune
Phone: +91 20 2445 0728