Quick Overview
MADE IN INDIA
Size: 5 Litre
Diameter Of Base: 179 mm
Thickness Of Base: 6.35 mm
Product Weight: 4.07 kg
Product Guarantee : 5 Years
This Cooker is Induction Compatible.
Recommended Cooking For 5-7 Family Persons.
Hawkins Genuine Parts Gasket - 2 Pcs
Hawkins Genuine Parts Safety Valve - 2 PcsHard anodised
Aluminium body with stainless steel lid heats fast and evenly.
This Pressure Cooker absorb heat faster making it more energy-efficient.
The double-thick base stays flat, heats evenly and is ideal for light frying before pressure cooking.
Futura Pressure Cooker Induction Base 5 Litre: IFP 50 with Hawkins Genuine 2 Gasket & 2 Safety Valve
Hawkins Genuine Parts
Futura Pressure Cooker
Average 46% faster than Microwave Oven. It's a beautiful combination of Form and Function.
The Beautiful and durable black finish is made of 60 microns thick hard anodizing.
Futura Pressure cooker with a unique pressure regulating system which gives the convenience of finger-tip pressure release and prevents clogging of the steam vent.
The Base is double thick and stays flat, it evenly distributes the heat.
Suitable for gas, electric, ceramic and halogen cooktops.
Package Contents
The Benefits of Hawkins Pressure Cooking :

Hawkins pressure cooking can reduce normal cooking times by as much as half. Economical foods such as legumes (lentils, dried peas, and beans) and tough cuts of meat can be cooked to perfection in a fraction of the normal time. Because food cooks faster in a pressure cooker, you save fuel, and therefore money. Scientific literature indicates that certain nutritive elements such as proteins and vitamins are better retained by pressure cooking. Steaming is ideal for low-calorie, low-fat cooking. The higher temperature while pressure cooking gives more hygienic food. Closed cooking in super-heated steam may better evoke the natural flavors of the food-producing delicious results. A wide range of foods, whether parts of recipes or entire meals, can be cooked in your Hawkins.
The stated volume of all pressure cookers is with the lid closed. Cooking capacity in a pressure cooker is less than its full volume. The pressure cooker body should never be filled more than two-thirds it is capacity. This is to safeguard against blocking the steam vent/vent tube and to leave enough space to allow steam to circulate. Certain foods, however, such as soups and other liquid foods, foods such as lentils and rice which expand during cooking should not be loaded more than half the capacity of the cooker body. Dals that sprout, such as tuvar and moong, should not be loaded more than one-third the capacity of the cooker. In the 5 liters (5¼ quarts) Hawkins, the two-thirds capacity is about 13½ cups/3.2 liters, half capacity is about 10 cups/2.4 liters and one-third capacity is about 6½
If the normal escape of steam is blocked, the safety valve will operate. The safety valve will also operate if there is insufficient water in the pressure cooker and it boils dry, causing the temperature to rise beyond the normal operating range. The fusible alloy in the safety valve melts at the required temperature and releases pressure. The safety valve can be replaced as shown here.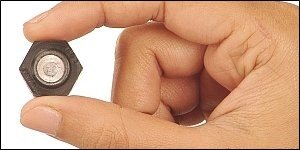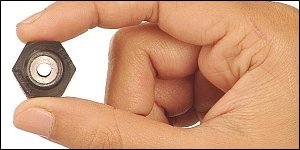 The steam vent seats the pressure regulator and is the outlet for excess steam. The steam vent is also the point at which the lid handle is connected to the lid.
The lid comes assembled with the detachable rubber sealing ring. It can be removed from the lid curl with the fingers. The sealing ring can be easily put back by slipping the lid handle through the sealing ring and patting and pushing it down all along with the lid curl until it is seated properly. The Futura Sealing Ring works best if the side with the words "OTHER SIDE UP" faces down.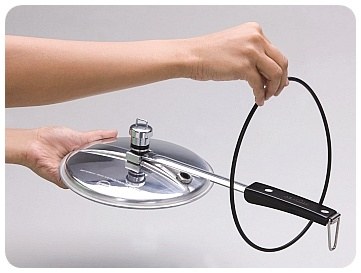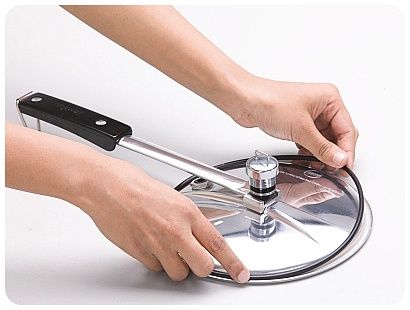 More Information

| | |
| --- | --- |
| Brand | Hawkins |
| Material Type | Hard Anodised |
| Capacity | 5 L |
Sold By:
Authorized Company Dealer - Laxmi Stainless Steel Works
One Of The Most Trusted Appliances Store In Pune For Quality And Branded Products
Established: 1976
Address: Appa Balwant Chowk Pune
Phone: +91 20 2445 0728
We found other products you might like!