Quick Overview
MADE IN INDIA
Recommended Cooking For 3-4 Family Persons.

Specially designed Curved body shape helps in Easy stirring and Better visibility of food.

The base always stays flat and never bulges.

It stays bright, does not pit or corrode, is extremely hygienic and stays looking new for years.

The gasket is not rubbed Sideways it lasts longer.

This Cooker Material is stainless steel and Induction compatible.

Size: 3 Litres

Diameter Of Base: 131 mm

Thickness Of Base: 6.6 mm

Product Weight: 2.40 kg

Product Guarantee: 5 Years
Stainless Steel Hawkins Contura Pressure Cooker
Stainless Steel Hawkins Contura Pressure Cooker is ideal for Dishes that require a lot of stirring. It comes with a unique body and rounded sides which make easier stirring, better visibility and easy removal of food.
The external base of AISI 430 grade magnetic stainless steel which makes it induction compatible. stays flat and never bulges. 6.6 mm thick sandwich bottom to ensure uniform heating and no hotspots.
Stainless Steel Hawkins Contura
The base always stays flat and never bulges. The cooker body has curved sides for easy stirring. It stays bright, does not pit or corrode, is extremely hygienic and stays looking new for years.
The body and lid are made from superior grade Aisi 304 non-magnetic stainless steel. The Base always Stays flat and never bulges. Suitable for use on all domestic gas, electric, halogen, ceramic and induction cooktops.
5.8 mm Extra-thick, Heat-diffusing Sandwich Bottom.
The pressure cooker Body and Lid are made of food-grade, superior stainless steel for maximum hygiene and durability. On the outside bottom of the pressure cooker, sandwiched between two sheets of stainless steel, is a core of 4.1 mm thick aluminum, which spreads heat quickly and evenly. Hawkins Stainless Steel pressure cooker will work on both gas & induction cooktops. The extra-thick base stays flat and never bulges. It can be used safely for light and deep-frying before pressure cooking.
The Hawkins Pressure-Locked Safety lid.
The unique Hawkins Pressure-Locked Safety lid insure that when there is pressure inside the cooker. It cannot be opened until the pressure has fallen to a safe level.
Perfect Sealing through better design.
The lid handlebar is so attached to the lid that there is extra space for deliberate 'play' or movement. This is an advanced design feature – do not try to tighten the bar and remove this 'play'!
Sturdy, stay-cool Handles.
Your pressure cooker comes with stay-cool handles that are easy and comfortable to hold while cooking. The metal screw and rivets used to fasten the handles are safely recessed to limit the chances of your hand coming into contact with hot metal during cooking.
Works on Gas + Induction cooktops.
The AISI Grade 430 magnetic external base of the pressure cooker means that it can be used on induction cooktops. The 5.8 mm extra-thick base always stays flat and maintains proper contact even after heavy-duty use.it is recommended for use on gas, electric, ceramic and halogen cooktops as well.
The Hawkins Cookbook Advantage.
A cookbook or instruction manual is supplied free of cost with each pressure cooker.It worthy and practical information on the proper use and care of your pressure cooker. Feel free to experiment and develop your own recipes once you are comfortable using your pressure cooker.
The Hawkins Cookbook Advantage.
A cookbook or instruction manual is supplied free of cost with each pressure cooker.It worthy and practical information on the proper use and care of your pressure cooker. Feel free to experiment and develop your own recipes once you are comfortable using your pressure cooker.
The Hawkins Test Kitchen.
Established in 1984, it has since then tested hundreds of products before launch. The Test Kitchen writes direction for the user, develops recipes and solves customer problems. The Test Kitchen tests products from the consumer's point of view. If a prototype has some issues at the testing stage, the Test Kitchen sends it back to the R&D Centre for improving the design.
Certified by UL.
UL Certificate No. SA5984. Underwriters Laboratories Inc. (UL) is an independent Worldwide safety analysis, testing and certification Organisation. Headquartered in Chicago, UL was founded in 1894. The UL mark is widely accepted and recognized as a trusted symbol of safety. Their certification includes evaluation and factory surveillance of products by their field representatives worldwide. Several Hawkins models are certified by UL – such models carry the UL mark stamped on the product external base, and printed on the product carton.
The Benefits of Hawkins Pressure Cooking :

Hawkins pressure cooking can reduce normal cooking times by as much as half. Economical foods such as legumes (lentils, dried peas, and beans) and tough cuts of meat can be cooked to perfection in a fraction of the normal time. Because food cooks faster in a pressure cooker, you save fuel, and therefore money. Scientific literature indicates that certain nutritive elements such as proteins and vitamins are better retained by pressure cooking. Steaming is ideal for low-calorie, low-fat cooking. The higher temperature while pressure cooking gives more hygienic food. Closed cooking in super-heated steam may better evoke the natural flavors of the food-producing delicious results. A wide range of foods, whether parts of recipes or entire meals, can be cooked in your Hawkins.
The stated volume of all pressure cookers is with the lid closed. Cooking capacity in a pressure cooker is less than its full volume. The pressure cooker body should never be filled more than two-thirds it is capacity. This is to safeguard against blocking the steam vent/vent tube and to leave enough space to allow steam to circulate. Certain foods, however, such as soups and other liquid foods, foods such as lentils and rice which expand during cooking should not be loaded more than half the capacity of the cooker body. Dals that sprout, such as tuvar and moong, should not be loaded more than one-third the capacity of the cooker. In the 5 liters (5¼ quarts) Hawkins, the two-thirds capacity is about 13½ cups/3.2 liters, half capacity is about 10 cups/2.4 liters and one-third capacity is about 6½
If the normal escape of steam is blocked, the safety valve will operate. The safety valve will also operate if there is insufficient water in the pressure cooker and it boils dry, causing the temperature to rise beyond the normal operating range. The fusible alloy in the safety valve melts at the required temperature and releases pressure. The safety valve can be replaced as shown here.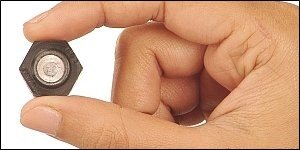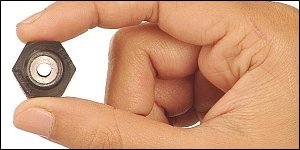 The steam vent seats the pressure regulator and is the outlet for excess steam. The steam vent is also the point at which the lid handle is connected to the lid.
The lid comes assembled with the detachable rubber sealing ring. It can be removed from the lid curl with the fingers. The sealing ring can be easily put back by slipping the lid handle through the sealing ring and patting and pushing it down all along with the lid curl until it is seated properly. The Futura Sealing Ring works best if the side with the words "OTHER SIDE UP" faces down.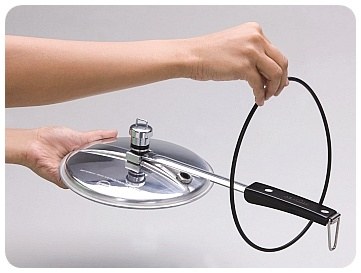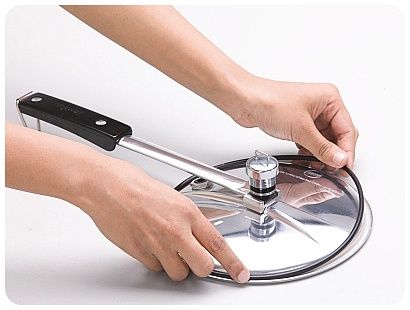 More Information

| | |
| --- | --- |
| Brand | Hawkins |
| Material Type | Stainless Steel |
| Capacity | 3 L |
Sold By:
Authorized Company Dealer - Laxmi Stainless Steel Works
One Of The Most Trusted Appliances Store In Pune For Quality And Branded Products
Established: 1976
Address: Appa Balwant Chowk Pune
Phone: +91 20 2445 0728
We found other products you might like!